---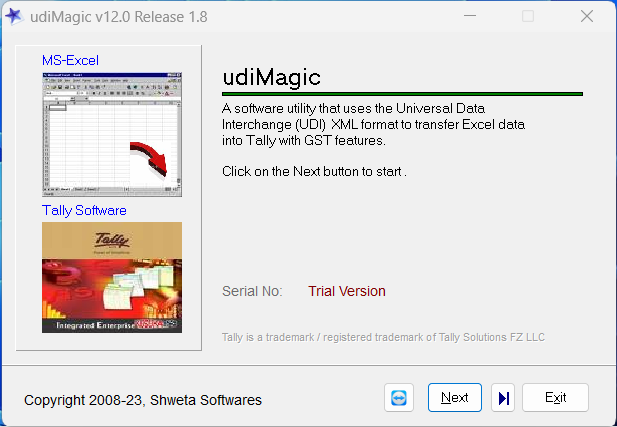 How to import from Excel to Tally?
Start Tally Prime and Open a Company.
Start udiMagic software
Select the option Excel to Tally
Select the option Import data into Tally
Click the Browse button and select any Standard Excel template provided with udiMagic converter
Click the Start button
A simple yet powerful tool to import data in Tally Software. Try udiMagic DEMO utility for free and see it for yourself. Import all vouchers, masters in Tally Prime using simple excel formats.
See Video: udiMagic Software - It's faster than ever.
Software Specifications
Name:

udiMagic Excel to Tally Software

Category :

Business Application

Sub-Category :

Utility for Tally Prime

Version :

Version 12

Download URL :

https://udimagic.in/downloads/udimagicsetupv120.zip

File Size :

19MB

File Name :

udiMagicSetup.exe

Operating System :

Windows 8 • Windows 10 • Windows 11

Publisher :

Shweta Softwares

Copyright year :

2008

Screen Snapshot :

udiMagic Software
Licensing and Pricing
Licensing :

Free to try

Trial period :

14 days

Trial limitations :

5 records

Product Id :

udiMagic Standard (12 months subscription)




Currency :

INR




Price (Excl. GST):

10800
To use the software after the trial period, you must buy a licensed copy by paying the requisite charges. Refer the buy page for prices of other udiMagic variants.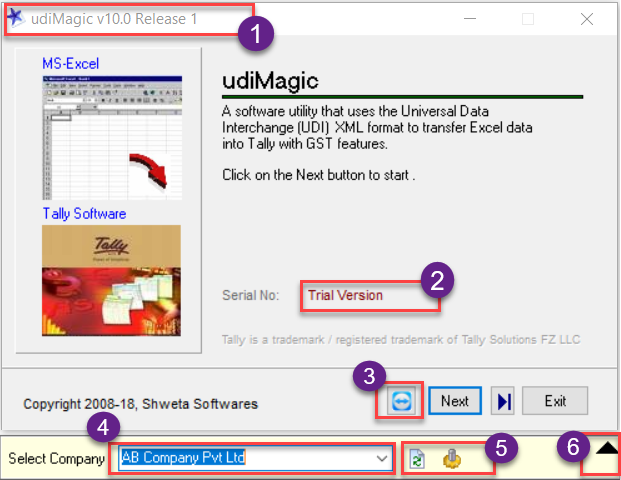 udiMagic Home-screen Information
Displays udiMagic Version and Release.
Displays udiMagic Serial Number or Trial version.
Remote Support button. PS: Teamviewer is provided with udiMagic Software.
Displays the Company in Tally Prime in which the data will be imported.
Refresh button and Settings button.
Toggle button to hide/show the Company Name drop-down list.